67 Best Cute Romantic Flirty Quotes on Boyfriend That He Will Like
Here are awesome 67 Quotes on Boyfriend that will make his day special. Maybe it's a WhatsApp status or a facebook post or a DM ping, all he will feel is he is special for you.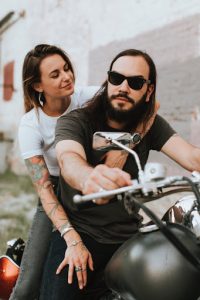 Read our post for Romantic WhatsApp DP.
Here is the List of Best Quotes for your Boyfriend
 Sometimes I love you. Sometimes I want to punch you in the face.

I like your last name. Can I have it?

 I know he is cute but he is mine. Touch him and I will kill you.

I just want to thank you for being my reason to wake up the next day.

 I can talk to hundreds of people in a day but no one can give me a smile like you.

 He calls me beautiful like it is my name.

 I love my crazy goofy but so amazing boyfriend.

He is still not perfect but he is all I want

Your voice is my favorite sound.

I have the best boyfriend ever.

Keep calm and kiss your sexy boyfriend

I love being yours.

Your definition is perfect.

 If I know what is love, it is because of you.

 You know I am not perfect but you make me feel it in every way.

 Thank you for coming in my life and for making me smile like crazy.

 You are my glue. Without you, I will be broken pieces.

 You put your arms around me and I am home.

 The most beautiful moments of my life are because of you.

 You are the part of me I will always need.

 Babe, you are my better half.

 If someone asked me to describe you in 2 words, I would say simply amazing.

 I won't be satisfied until I wake up next to you every morning.

 And I know he is not perfect in your eyes, but somehow he is flawless in mine.

 In you, I have found the love of my life.

 You are my favorite place to go when my mind searches for peace.

I love you even on bad days when everyone annoys me

I am yours. No refunds.

I want all of my lasts to be with you.

 I just want to lay on your chest and listen to your heartbeats.

 You are the most beautiful thing I keep inside my heart.

 Love isn't found. It is built.

 You have my whole heart. You always did.

 I am too late to be your first but I am preparing myself to be your last.

 I look at you and see the rest of my life with you.

 I want to be the only hand you ever need to hold.

 Ever since I met you no one has been worth thinking about.

 I am proud to be yours.

 I love being yours.

Being with you is what I call happiness

Hold my hand and I will go anywhere with you.

Some hearts understand each other even in silence.

 My love for you is something I will never run out of.

 Even if I only talk to you for a few minutes my day is made.

 One day we will never have to say bye Only goodnight.

 Your voice is my favorite sound.

 I will wait for you because honestly, I don't want anyone else.

 I have found the one whom my soul loves.

 My body literally aches at the thought of never seeing you again.

 You came into my life and became it.

 It is so important to love someone a little extra on their bad days.

 I will never finish falling in love with you.

 In the sea of people, my eyes will always search for you.

 You are my one in six billion.

 I hate being away from you.

 Of course, I miss you. It is all I do.

 All the love quotes are about you.

 I fell in love with you for who you are.

 I want to hold your hand at 80 and say " We made it."

 Every girl deserves a guy that can make her heart feel that it was broken.

 You are my today and all of my tomorrow.

 Since you have been around I smile a lot more than I used to.

 You are my good days.

 I am happiest when I am next to you.

 Have I mentioned today how lucky I am to be in love with you?

 He looked at her like a blind man seeing the sun for the first time.

 I love it when I catch you looking at me.
Conclusion
Here was the list of quotes that would make your boyfriend think all about you his whole time. For future reference check out This Article.